Check the latest news
Local fiestas of Menorca Comitas Hotels
Local fiestas of Menorca
Menorca Guide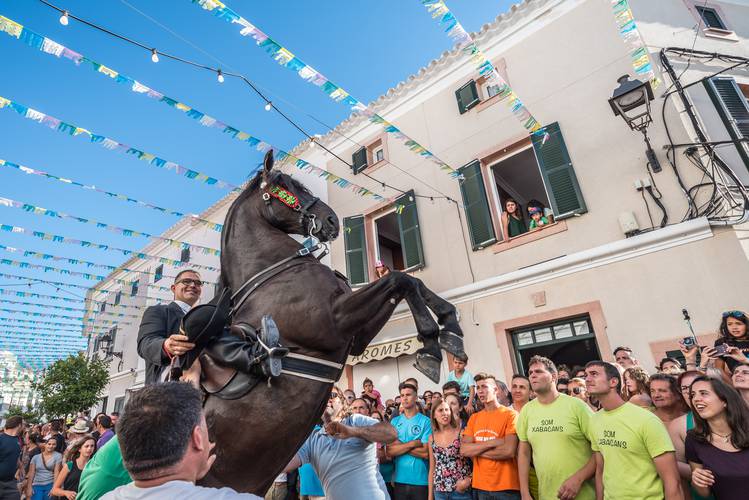 The local fiestas of Menorca are a centuries-old tradition and one of the most impressive shows on the island. Although they have their origin in the Fiestas de Saint John, celebrated in Ciutadella, each town in Menorca celebrates its own fiesta during the summer.

In them, the Menorcan horse is the true protagonist. During the jaleo, the caixers (horsemen) enter the main town square making the horses jump to the rhythm of the typical songs of these festivals. The public crowds around the horses to make them raise their front legs, quite a sight to see!

The fiestas dates for each town are as follows:

Sant Joan de Ciutadella: June 23rd and 24th, in addition to the previous Sunday (Día des Be).

Sant Martí de Es Mercadal: third weekend in July.

Sant Antoni de Fornells: fourth weekend of July.

Sant Jaume de Es Castell: July 24th and 25th.

Sant Cristòfol de Es Migjorn Gran: fifth weekend in July or first weekend of August.

Sant Gaietà de Llucmaçanes: first weekend of August.

Sant Llorenç de Alaior: second weekend of August 10th.

Sant Climent de Sant Climent: third weekend of August.

Sant Bartomeu de Ferreries: August 23th and 24th.

Sant Lluís de Sant Lluís: Fourth weekend of August.

Mare de Déu de Gràcia de Mahón: September 7th and 8th.

Due to the current health situation, the responsible authorities have not confirmed the calendar of Menorca's local fiestas for 2022, as well as the definitive dates for its celebration. For any questions or queries, do not hesitate to contact our reception staff.
Return